The big game is almost here. I remember when these things had "X's" in them. Now they have "L's." Yeah, we're getting older! Super Bowl 52 kicks off this Sunday in Minneapolis, and it features one team in their 3rd ever Super Bowl vs. another team in their 3rd Super Bowl in the past 4 years. I'll be rooting for the Philadelphia Eagles in this one. Why do you ask? Well it's not because of their fans. I think Philly fans are some of the biggest idiots around. The franchise? No. I've never been an Eagles fan. I've never really disliked them, just sort of indifferent. So why then? For one, I sort of like the whole backup quarterback underdog story. When I don't have a horse in the race, I usually side with the underdog in the contest. For two, I'm simply tired of the other team…..the New England Patriots.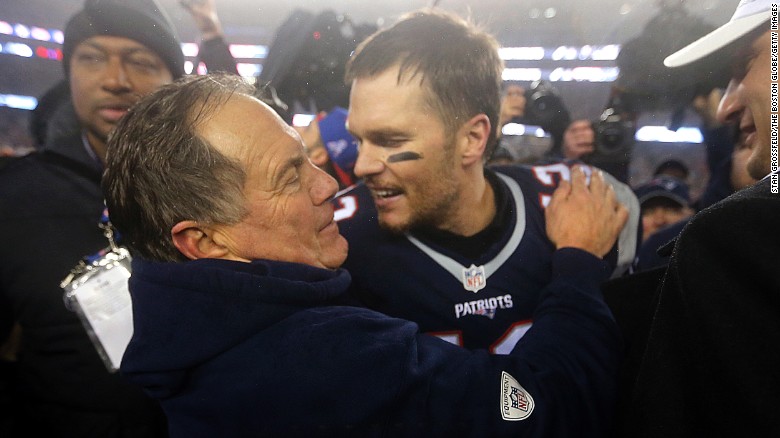 What these two guys have accomplished together over the past 18 or so years is unprecedented. No coach-quarterback combo has ever come close to their success. I wasn't alive for the Boston Celtics era of Red Auerbach and Bill Russell, but I gotta believe this is the closest thing we've seen to that. Bostonians and Pats fans like to label those who root against them as Patriot-haters. I don't know that I hate the Patriots. I'm just fatigued. I just want it to end already. I'm sick of seeing them on that podium hoisting Lombardi trophies. I'm sick of their owner Robert Kraft and his ugly blue dress shirts with the white collars that went out of style 15 years ago. I'm tired of goofy Rob Gronkowski at the championship parade in downtown Boston. I'm sick of Marky Mark and his brother Donnie reveling in another "Beantown" title. Alas, I'll likely have to suck it up at least one more time. I expect the Pats to win again. This one will especially sting for me. As a lifelong Steelers fan, the one thing we hold over everyone else are our six Lombardi trophies. If the Pats beat the Eagles, they'll tie Pittsburgh with six Super Bowl wins. Ughhhh!
So what do you think about Super Bowls? I think for most people they are events. The commercials. The halftime show. The hype. It's the one sporting event that brings die-hard sports fans, casual sports fans, and non-sports fans together. An excuse to get together with friends and family, eat junk food, drink beers, and basically party.
I'm a big sports fan. I'm a big football fan. So of course, I watch the Super Bowl every year. That said, once the ball is kicked off and the clock starts, to me it's basically just another football game. If it's a close game I'll tend to watch the whole thing. If it's a blowout, like some of those old 49ers, Cowboys, and Redskins Super Bowls of the late 80s and early 90s, I'll usually wander on to other things while the game plays on the tv.
However, it's a totally different story when your team is playing in the Big Game. There's nothing better than watching the Super Bowl when the team you love and follow is on that field! The World Series, Stanley Cup finals, and NBA finals don't compare. In a 7-game series you know your team can lose a few games and still be champs in the end. About the only thing that compares to watching your favorite team in the Super Bowl would be watching your favorite school in a collegiate championship game. When the game starts, you know in a few hours your team or school is either going to be on the winning side or losing side…..then it's over. There's no game the next day, or the day after that. The pressure and anxiety are so immediate. This of course can sort of drive you a bit crazy, but it's damn exciting too.
My Super Bowl memories:
I was a 10-year kid watching the game with my dad. The Pats scored first, going up 3-0. I got all worried and upset. "Dad we're losing!!! Are we gonna lose?" I remember Romey just looked at me, smiled, and said, "Don't worry about that son. They'll be fine." Yeah, Dad knew his Bears. Final score: Bears 46, Patriots 10. Bear Down!
After Super Bowl 20, I had to wait ten years before I got to see a team I cared about in the Big Game again.
That's Cowboys' defensive back, Larry Brown. Steelers' quarterback Neil O'Donnell threw two touchdown passes to him that day. Unfortunately, when your quarterback throws TD's to the guys in the other jerseys, that doesn't bode well for your team. This game was memorable, but not a happy memory. Winners….Dallas Cowboys.
From here I'd go another ten years before a Super Bowl that held meaning for me.
This one however, was well worth the wait! That was Hines Ward scoring a TD pass thrown to him by Indiana University's very own Antwan Randle El! The game, played in Detroit, was a homecoming and the final game of Notre Dame great Jerome Bettis' career. Being too young to remember the '70s Steelers Super Bowl teams, it was also the first time I got to see my favorite team win the Super Bowl. The best part was seeing my all-time favorite coach, Bill Cowher, finally reach the league's mountaintop!
The Steelers would win another exciting Super Bowl against the Cardinals a few years later, and then lose one to the Packers a few years after that. The Colts would win one against the Bears, and lose one against the Saints. But it's been a while now since I've got to watch a team I care about in the Super Bowl.
So in all due respect to the Patriots and the Eagles, I'm just looking forward to seeing a team I like in the Super Bowl again one day. Hopefully that day is sooner rather than later. My dream Super Bowl of course would be the Steelers vs. the Bears. Until that day comes, let's just hope for good games, regardless who's playing!
-Vic